Home of the Denver Well Logging Society
Welcome to the DWLS website! Here you'll find the current (and past) newsletters for the chapter, as well as information on our activities. Please feel free to use the contact links in the menu above if you have questions about the chapter.
---
Not Getting the Monthly Newsletter?!?
Click here to get you back on the list.
---
Of Interest
The Rocky Mountain Association of Geologists and the Denver Well Logging Society are teaming up to present "Geology and Petrophysics of Unconventional Mudrocks, 2017", September 27-28, 2017. Send your abstract in today and join us for Unconventional Mudrocks, 2017! Deadline for abstract submission is June 1, 2017. Decisions will be returned by June 1.
If you do any log interpretation at all, you need to check out the Historical Chart Books on CD-ROM that has been made available by the DWLS. Special thanks to Bob Cluff for making this possible.
Another valuable resource, made available by the Phil Nelson of the USGS, is A Catalog of Porosity and Permeability from Core Plugs in Siliciclastic Rocks.
Almost New! Even better, we have some other goodies for sale.
---
Next Meeting
The next lunch meeting will be 11:30 am on Tuesday, September 19, 2017 at The Wynkoop. To make your reservations for the luncheon please use our PayPal page, no later than noon on the Thursday prior.
Presentation: "Unconventional Rocks" recovered from the Moon during NASA's Apollo Program
Abstract: A representative of the U.S. Geological Survey is presenting on "unconventional rocks" recovered from the Moon during NASA's Apollo Program. The presentation begins with a newly revised video clip of the Apollo Saturn V rocket launch from Kennedy Space Center's historic Launch Complex 39A. Then, learn about the lunar geophysical experiments ...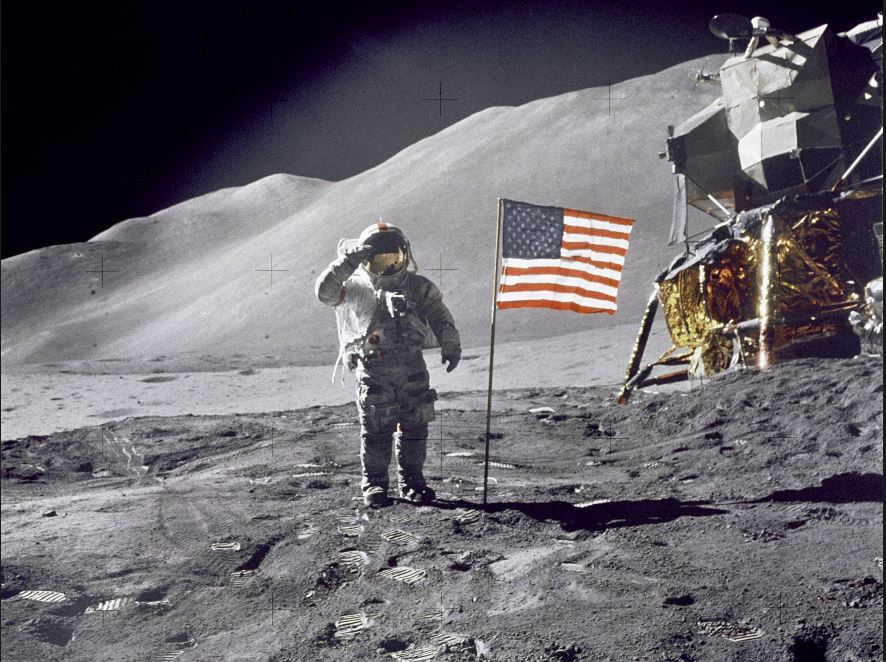 Speaker: A representative of the U.S. Geological Survey
---
Our Next Generation
Since the DWLS does not officially have a Young Members contingent, the DWLS board has decided to support the efforts of the Next Generation of Oil and Gas Professionals (NGOGP). NGOGP is "a collaboration of young professionals in the oil and gas industry, including geologists, geophysicists, engineers, landmen, and accountants. We are an extension of each professional group – RMAG, DGS, SPE, DAPL, DWLS and COPAS – coming together to facilitate interdisciplinary outreach and networking. Through a series of sponsored events, we hope to engage and recruit an active core of young professionals who will become the next generation of leaders in our organizations."
Please consider Sponsoring the NGOGP, as this society is solely able to function based on donations.
For more information on NGOGP please visit their website or you can contact Stefani Brakenhoff your DWLS representative on the NGOGP board with any questions or to get on the mailing list.
---
Membership Dues
Membership (or just your memory) lapsed? Go to our PayPal page and pay for your annual membership dues. Even better, select the Lifetime option to eliminate the worries entirely. While you're there, you can also make a reservation for the next luncheon.